Keeping one step ahead of busy minds is a key factor to the perfect family holiday or adventure trip. Read our top activities to keep children entertained during road trips, plane journeys and even when you are relaxing at your resort or accommodation.
How to keep children entertained on long journey and whilst away
By planning travel activities for children before you head off, you can rest assured that your children will be entertained during your trip on even the longest of journeys, it may even allow you a few minutes peace and quiet (although we cannot be held liable if this doesn't go to plan!)
Prepare a travel scavenger hunt
A checklist is easily folded up and kept in your pocket with a small pencil and an easy way to keep your young travellers occupied and focused on the trip. Before you head off on your latest adventure, draw up a list of things you are likely to spot whilst you are away, in preparation of long car journeys and spare moments that need filling.
A list with 'things to spot' works well, you can also include a collection section for small items such as a feather, a bottle top, a certain style of stone, a few grains of sand – which can be searched for throughout your trip. Run it as a challenge for single young travel companions, or as a competition between siblings. Just be careful not to bring your scavenged items home if they do not comply with customs regulations!

Get involved with holiday card games
Our favourite holiday card games include Dobble and Top Trumps. They are great for the children to play together or for family card games around the table, are mess free and crucially don't take up too much space in our bags!
Children's poolside entertainment
When spending time by the pool, especially with those too young or not confident enough to swim alone, it is wise to set up some poolside activities to keep them occupied when you don't fancy getting into the pool or you all need some shade. These are our favourite activities for children at the pool, most could also be used as a beach activity too!
Set up poolside (or beach) water play station
Get your hands on some plastic containers, from cups to cutlery and encourage your tot to fill and empty them until their hearts content. Our daughter enjoys pretending she is running a cafe, and serving us up 'drinks'. With access to a freezer, you can add ice cubes too, which also helps children to cool off if need be.
Invest in an Aquadoodle
Aquadoodle mats by Tomy are a huge hit with our family by the pool. From toddler through to adult, everyone enjoys leaving their mark thanks to the mess free water play. You can use the specially designed pens supplied with the drawing mat, or enjoy leaving foot and hand prints of pool water. The best thing is, in the sunshine the mat dries out super quickly, ready for anther use.
Blow some bubbles
Cheap and readily available, bubbles are a great addition to poolside fun for kids.
Make up games to suit your trip
A favourite of ours is the "wildlife game", we grant each other points throughout the trip based on the rarity of the animal we have spotted. Pigeon for example would be 1 point, cat 3…alligator 25.
The fun needn't stop once you are home, these are our current favourite travel related activities to try out when you are waiting for your next trip;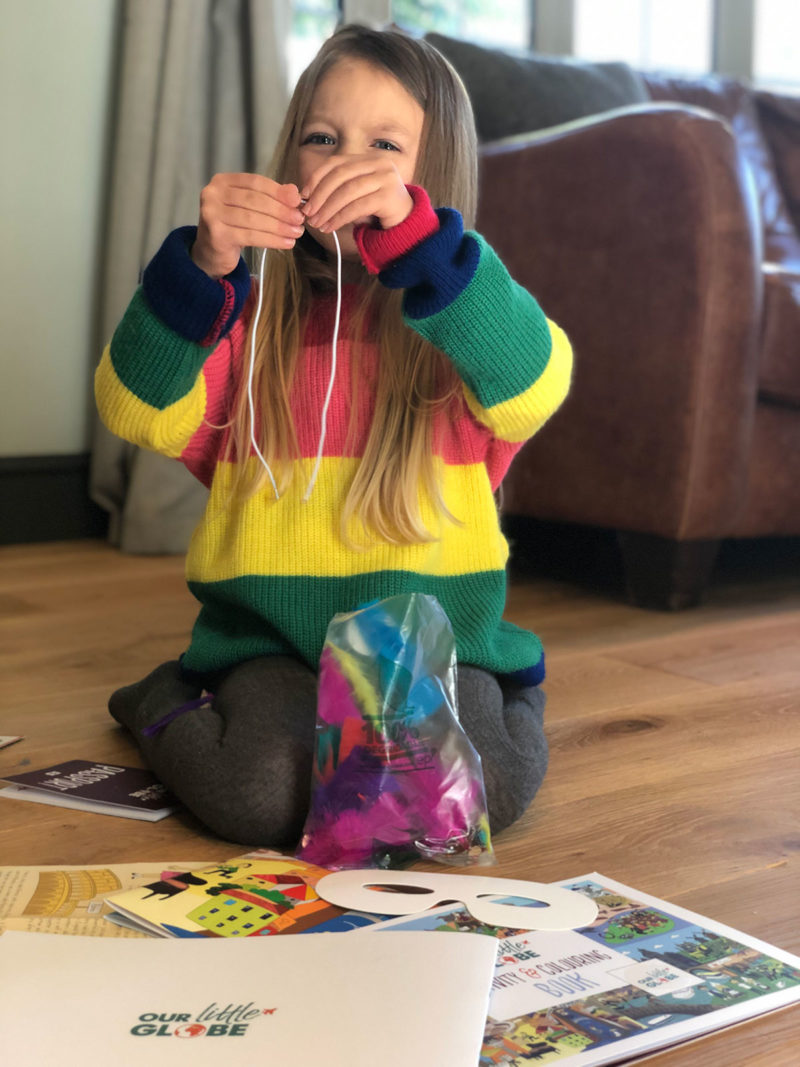 Our Little Globe Travel activity packs
We recently had the pleasure of trying a travel activity box from Our Little Globe. They provide subscription boxes that are designed to enable young children (5-10) to gain a greater understanding of world cultures, foods and traditions. Their boxes come complete with country themed crafts, activities and a recipe or two. Our box was an Italian theme, so we enjoyed making our own Venetian masks with colourful feathers and sequins – before tucking into a delicious Tiramisu made by our youngest Little Travelling Bug. You can find out more over on their website, Our Little Globe.
Janod's magnetic map
We've loved this magnetic map for several years, so we are delighted that it is still available, from French company Janod. The children love discussing where we have been, where we will go next. They also love using the map as a puzzle taking pieces off, and trying to solve where they belong when putting them back. I dont so much enjoy trying to locate the magnets from around the house, but hey ho. It is a great educational travel toy and has stood the test of time within our home thanks to its outstanding quality.