There are many travel blogs that cover every part of travelling with children to Florida. They will advise you on the very best park tickets to buy for your holiday, the best times to travel and where to stay.
Florida, more than just theme parks and pancakes (though they are pretty awesome)
This article is not just to cover the theme parks – although we did visit a few and loved them, they were not the only reason we travelled to Orlando. We are not experts in where to pick up the cheapest theme park tickets or the best times to visit to avoid the crowds, nor did we have the chance during our 2 week stay to fully explore everything Orlando has to offer.
This is our brief overview and it may be that whether you have been to the Sunshine State more times than you can count or this is your first trip to Florida with kids, as it was for us, that there may something on our list that will inspire you to give it a try.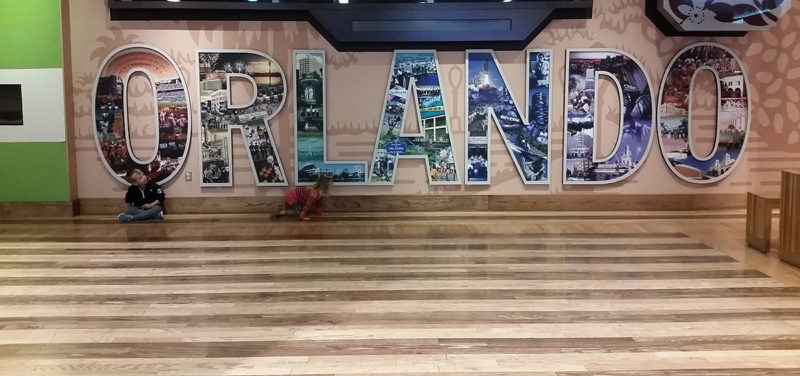 Where to stay in Orlando
You have so many options when it comes to accommodation in Orlando, from AirB&B homestay's to All Inclusive resorts. Your best bet is to work out what you plan to do with the majority of your stay. The roads are busy and if you intend on being in the theme parks 24/7 then it makes sense to choose a hotel on the fringes of the parks. If you intend on exploring further afield, or of the theme parks are not your main focus,  then a villa may be a better option. That's what we chose.
We booked Florida, as with most of our trips, fairly late notice so we didn't have a huge choice of accommodation but found a nice 4 bedroom house in Calabay Parc in Davenport. With a private pool, plenty of living space and parking for our newly acquired Chevrolet Camaro (I had ordered a Dodge "or similar' which turned out to be a Kia – so my husband did a stealth upgrade whilst I was momentarily distracted by a luggage/child/toilet combo).
Our top alternative activities in Orlando
Whilst we certainly enjoyed Universal's Island of Adventures and Disney World, Orlando has plenty more to give and not everything has to cost a small fortune, which was lucky given that my husband had upgraded the hire car!! These are our top ideas for alternative activities, when travelling to Orlando with Children.
Viewing a Rocket Launch in Florida
Check out the space centres schedule and see if you trip coincides with a rocket launch. We were lucky enough to be travelling at just the right time to view the GOES-R weather satellite being launched from Cape Canaveral.
We pitched up on the beach at Canaveral National Seashore for the day, enjoyed a relaxed day of picnics and sandcastles and waited until dusk. It is worth noting the rip tides are an issue along this coastline so swim with caution.
We walked along the beach towards the Kennedy Space Centre and launch pad, and the crowd began to increase to an atmospheric, but not overbearing size. The scheduled launch time came and went, and the beach got darker and darker. The sand flies arrived and had a field day attacking our bare skin, although the children remained relatively untouched – I think as a result of their factor 50 suncream. We started to regret our viewing spot choice.
Just when we were about to give up, the rocket launched, lighting up the entire sky and warming our faces. For a second it was as if the sun had rushed back into the sky. We watched as the rocket headed up to is place, beyond our skies – feeling like very small beings in a very large universe. We no longer regretted our view spot choice.
COST:
$10 per vehicle – for entry to the Canaveral National Seashore.
Daytona raceway tour and speedway
As motorsport fans, we were hopeful to catch a Speedway race whilst we were in Orlando. Unfortunately the timings didn't work out, but we still opted to take a drive from Davenport to Daytona.
The drive itself was an enjoyable and easy one, although we used the toll roads so this may have helped with the traffic flow.
We opted for the behind the all access tour, and our guide was brilliant. Jimmie Johnson had won the NASCAR Sprint Cup Series in the days before, his trailer could be seen at the edge of the track and the atmosphere was palpable.
We were taken on a drive around the track, taken behind the scenes to the podiums and given time to explore the exhibition at our own pace. The guide took a shine to our son, and presented him with a wheel nut – found on the track, following the last Nascar race.
Even if are not a big motorsport fan, Daytona raceway is certainly worth a visit thanks to the enthusiastic staff and the sheer scale of the oval.
COST: Adults: $25.00, Children (6-12): $19.00, Children (5 and younger): Free
Air boat rides and Alligator spotting in the Florida Everglades
We headed out to Boggy Creek, as we had been recommended it before we left the UK. It is not a huge enterprise and is not sign-posted particularly well from the main roads – so be sure to use your sat nav when tracking it down.
Our daughter had been sick in the night, but was spritely in the morning, our son was desperate to see the alligators so we decided to take the journey to relaxed Boggy Creek, rather than head to Disney as we had planned – to ensure she was fully recovered before hitting the parks.
Upon arrival it seemed we had made a misjudgement – as we pulled in to the car park and stepped out of the car – Ted proceeded to throw up outside the reception. Oh.
Following a quick hose down – I insisted that following the journey, the boys should go ahead without us. Despite the vomit, our daughter was still in good spirits and disappointed not to be going on the airboat.
The airboat captain approached us, and questioned why we were not going along for the ride… 'My daughter has been sick' I explained, although I was pretty sure he had witnessed the episode. 'Yeah, but she seems happy enough now' he replied 'jump on – if she's sick we will just bring her back' he insisted.
Ted was keen to go, so thats what we did. Every part of my parental instinct was telling me it was going to end in disaster – but we went with it.
As it turned out, she loved it. The Airboat picked up speed as we skimmed over reed filled still waters as the captain showed us what the boat could do as it twisted and sped away from the shore. We then began our 'gator search, slowing up to a walking pace and meandering through the waterways. The Captain knew what he was looking for and where these huge beasts would be resting. We spotted three enormous 'gators and a couple of babies in the waters. The alligators, seemingly undisturbed by the motors didn't flinch as we drew up alongside them (thankfully).
It truly was a highlight of our trip.
COST: Adult $27.95, Child $23.95, Under 2 Free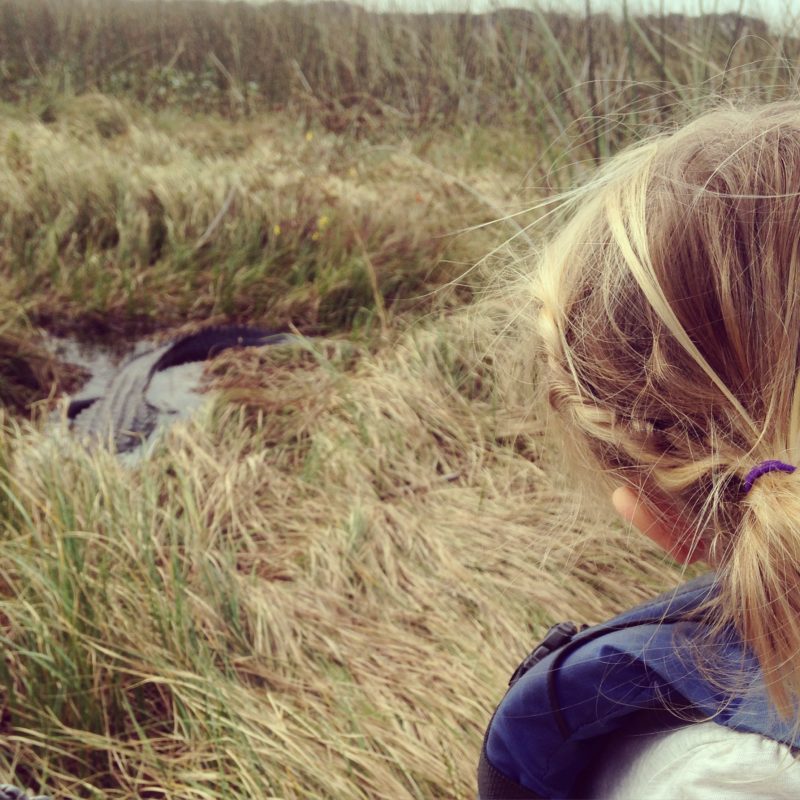 The magic of Disney for free at Disney Springs
I am a huge Disney fan and we enjoyed a day in Disney World, but it is an expensive day out. On several evenings we visited Disney Springs, originally Downtown Disney. A small city in its own right Disney Springs boasts restaurants, shops and entertainment centres – all with a splash of Disney. Themed restaurants, live music, build your own lightsaber stations, fashion demos and magical evening light shows make the Disney magic live on late in to the night.
COST: Free.. even the parking! However… I cant guarantee you wont spend a small fortune in the gift shops and indulging in $20 toffee apples.
St Petes Beach
Its the beach. Powder white sands, pelicans and warm clear waters. Beautiful.
St Petes is certainly worth the drive.
COST: Free… but you may end up taking the toll roads dependant on your accommodations
Orlando Magic, Basketball
We bought the cheapest seats in the house and had THE best night! If I'm honest we had little idea of what was going on in the game itself, but the spectacle was enthralling. The atmosphere as we entered the stadium was buzzing, the crowd were enthusiastic to say the least and the children were mesmerised. From the super sized snacks, to the t-shirt cannons they loved it all. Flashing lights, kiss cam, chanting, colourful mascots and a brilliant pre match play area all played into a brilliant evening out. If you are travelling to Florida with children, be sure to book seats to see Orlando Magic play.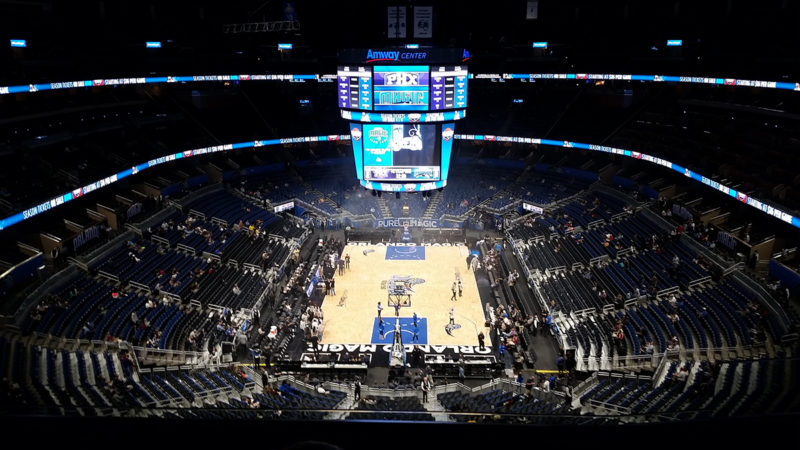 COST: From $18 a ticket.
This is just the tip of the iceberg when it comes to alternative activities in Florida you can try with children, we are returning to Florida early next year, so we'd love to hear your recommendations too.