We were lucky enough to attend the Tribe Norfolk weekend this year, self described as a celebration of our beautiful county and its abundance of talented craft people, musicians and foodies, this brand new family festival promised to enchant us, from its home at Happy Valley Glamping near Kings Lynn.
And enchant us it did. Despite the gloomy weather, in typical British fashion, I wrapped the children in their best autumnal attire, complete with mud beating boots and drove to Happy Valley, near to the sleepy village of Massingham.
We were greeted by smiling stewards and pointed to a stubble field to park up, walking a short distance to the hay bale stacked entrance – complete with giant letters, beckoning us in.
Entering the festival a well organised team handed us our wristbands, and straight away our daughter spotted the Food Dude' s converted horse-box, complete with waffles on sticks. I had spotted these beauties earlier in the week on their Instagram feed and shown my daughter Ted. This had quickly become her sole purpose for attending the festival, so of course it would have been rude not to try them straight away. We are pleased to report they didn't let us down, we sat on a straw bale, enjoying our find, a delicious chocolate and fudge covered waffle, whilst we assessed our surroundings.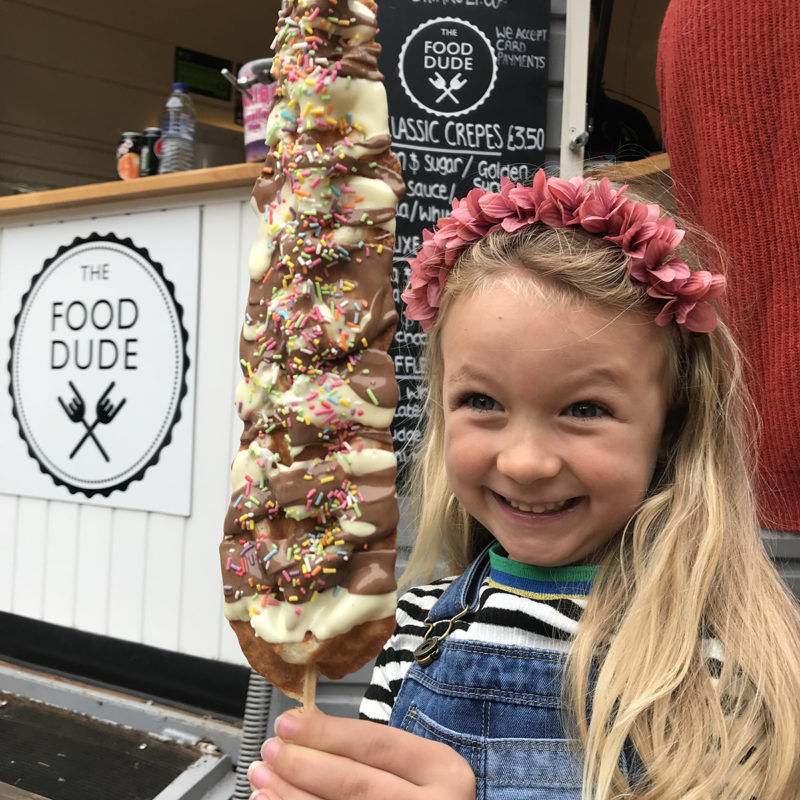 Happy valley is beautiful. A little slice of serenity in Norfolk. By day (and night of course) it is a sprawling and high quality glamping site – and now was transformed into the most perfect intimate festival setting.
Despite the chilly weather everyone had a smile on their face, stalls were bustling and music hummed from inside a nearby barn.
We first visited the stalls run by Norfolk Creative Arts, where the children made snails from a combination of old CDs and colourful buttons and then decorated masks.
Then we enjoyed a stroll, taking in live music and soaking up the atmosphere. The children tried their hand at hula hooping and I explored the vintage wears on offer.
We next visited the ever wonderful Bewilderwood team, and listened to the brilliantly animated tale of Snagglefang the bat. The children were entranced as the story unfolded and loved getting the chance to meet the star himself – Snagglefang at the end.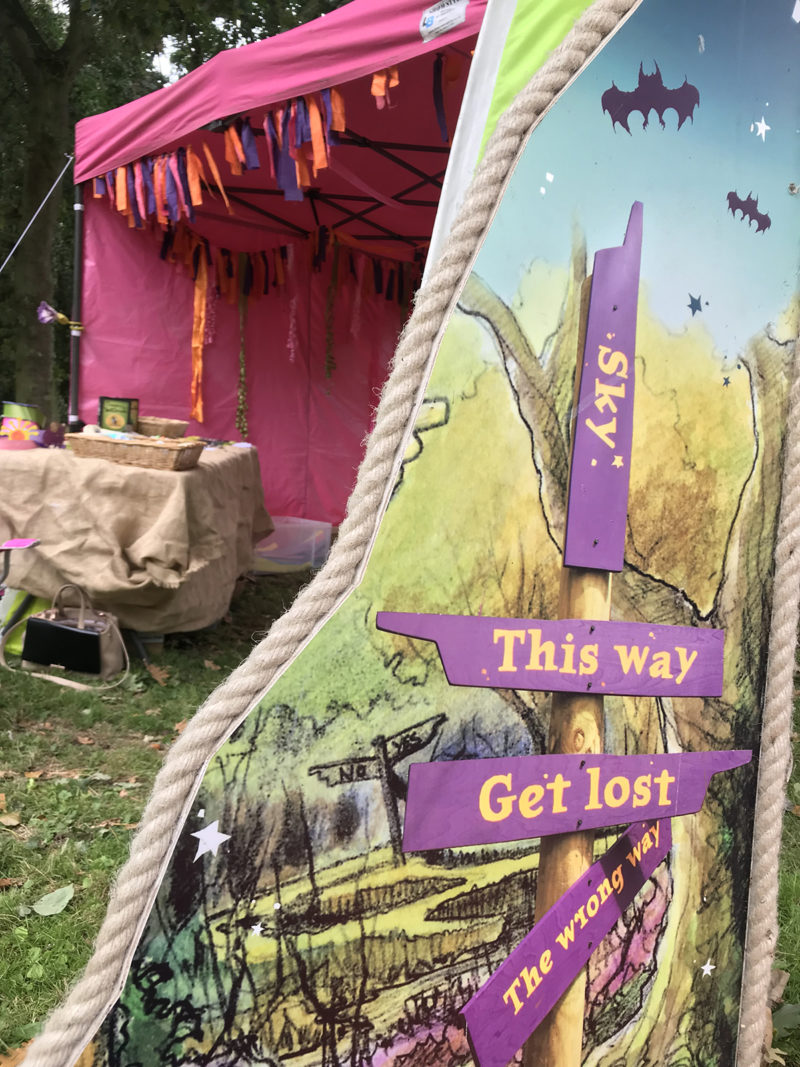 Next to yoga with Maire Issac (Wellbeing by the Sea). There were some great and unusual sessions being held over the weekend – including hiphop yoga, but unfortunately I didn't get a chance to try them out myself. Ted, however opted in to the children's yoga held on a small island in the centre of the lake. The children were taken on a miniature journey through yoga and mindfulness in the most beautiful of surroundings, whilst my son and I sat enjoying a rare pause in our busy week, watching the world go by.
After Yoga, it of course calls for pie (who wouldn't pick that over a kale juice!) – Pie Central were happily on hand to fill that hole with a delicious chicken pie, mash and gravy.
As our time at the festival came to a close, we made time to visit Henna Soul for a little lasting (well for a couple of weeks anyway) reminder of our family day. Again, ever the adventurer,  Ted was a keen to give this newly found delight a try. She chose a flower design placed on her foot and we all enjoyed a fruit filled smoothie from Franks Bar whilst we waited for it to dry.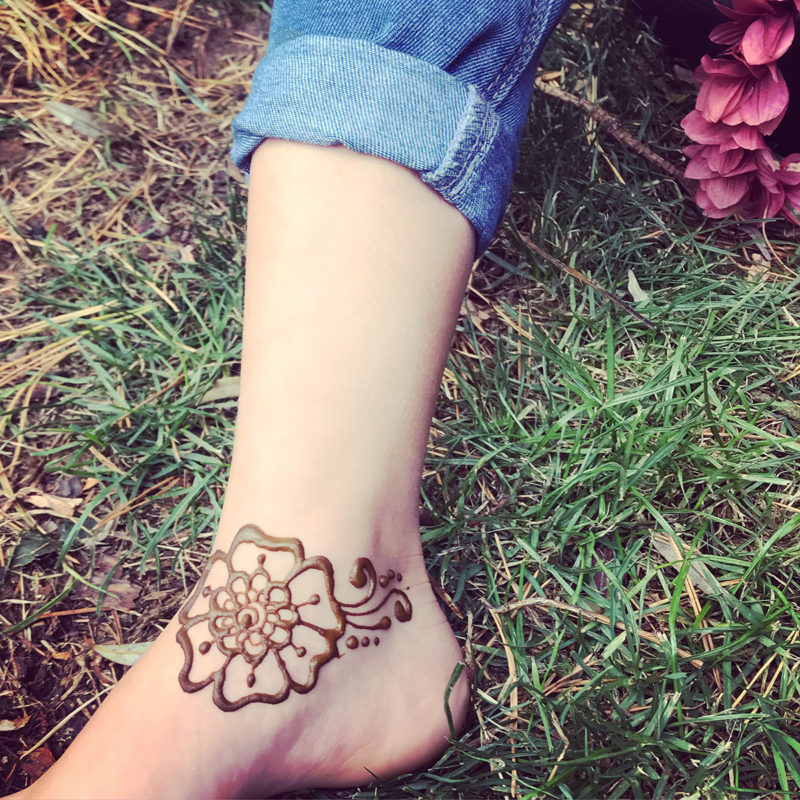 Visiting Tribe Norfolk provided us with a wonderful day out, away from day to day stresses and importantly a chance to reflect and enjoy the outdoors – and a wonderful collection of Norfolk businesses and musicians.
Tribe Norfolk will be running again next year. Keep up to date with their announcements by visiting their Instagram feed 
In the interest of transparency we would like to note that Tribe Norfolk gifted us our tickets for the day. Although most of our antics are usually fully self funded, we are sometimes lucky enough to be given complimentary entries or stays. As with any of our trips, our views are always true to our own opinion and not influenced by the freebies! We only ever endorse or recommend products, accommodations and locations that we truly believe in and enjoy.