A few years back, a close friend of mine moved to South Africa, where her parents had set up home 10 years previously.  After several offers of a very comfortable bed to stay in, near Johannesburg and our own personal tour guides it became to much to resist..  when the opportunity arises for adventure it is hard for me to refuse for long.
Unable to resist the pull of travelling to South Africa any longer
So I took the plunge and booked it, 3 weeks spread across South Africa, Abu Dhabi and Dubai.
We planned to have a few days finding our feet and catching up with her, then to undertake the drive to Kruger National Park for 5 nights where we would enjoy a self drive safari, after which we would head to Sun City for a few days of fun in the South African water park. Lastly we would fly from Johannesburg to Dubai, staying at Yas Marina in Abu Dhabi
Creeping doubts…Is it safe to travel to South Africa?
After booking the trip, I was buzzing with excitement. I planned our accommodation with the help of my friend taking her recommendations, booking car hire and working out our route.
I expressed my excitement about our trip first to my mother law, who inhaled through gritted teeth and stated "Oh you haven't! You are joking aren't you?" I am quite used to other rolling their eyes or questioning the length of the flight I am 'putting our children through' but such a negative response took me aback.
I duly explained we were staying with friends and that they have been living there happily for year without trouble, plus my friend wouldn't have recommended for us to visit if it was still unsafe. Those reports were historic and unfounded…weren't they?
My confidence in the situation lasted another 3 or 4 shocked expressions and sharp inhales until I caved and set to Google. My searched quickly escalated an before I knew it i was searching 'how many people are killed in south Africa every day'.
The answer is 50.
On average 50 people are murdered every day in South Africa.
That of course includes only the reported cases, with a high level of police corruption still prevalent I would imagine many more are swept under the carpet and doesn't even begin to cover the numerous rapes, kidnapping and armed car-jacking attempts.
I would be lying if I said this discovery, due to my initial naivety, didn't give me a few sleepless nights. As a parent, was it absolutely irresponsible and wreckless to even consider taking my two under 6s to such a dangerous country?
I didn't tell my husband to extent of my findings, after all you have to take Google results with a pinch of salt, especially with the rise of fake news stories.
Taking the risk
Although I am sure many people will strongly disagree, I opted in. 
Having weighed up the risk, researching further and sending my friend numerous (mildly panicked) questions I decided that we would still be taking the trip, after all if you Googled the risk of everything I'm sure you wouldn't do anything.  In real terms my friend and her family had lived in South Africa for several years, her daughter is 5 and attends a local school and she was about to have a second child there. During her day to day life near Johannesburg, she assured me that she had never even seen a crime – let alone been caught up in anything.
Thats not to say I wasn't still a little apprehensive but life without pushing your boundaries seems like a bit of a waste to me.
So we set off. We flew with Emirates who pulled out all the stops in treating the children to activity packs and animal flight blankets. The journey was via Dubai, and despite the early hours touchdown the children didn't let exhaustion get in the way of making the most of Dubai Internationals amazing children's play area.
Then onwards to the second leg (named the sleeping plane) to Johannesburg.
Part 1. Exploring Johannesburg
My friend met us at the bustling airport and drove us to her beautiful (and seemingly very secure) home, from which point we were treated to guided tours of the surrounding areas. We headed to Soweto, such an important township in South Africa's apartheid history, visited Nelson Mandela's home and then enjoyed a traditional South African lunch of Pap and Samp.
The children tried everything without faltering, they never fail to amaze me in taking everything in their stride.
The evening a trip to the Sandton Mall complete with Hard Rock Cafe visit and ice-cream parlour displayed the westernisation of the city, whether it was a false sense of security or just a true reflection of our surroundings but I certainly started holding on to my bag…and the children…a little less tightly.
Within the first days we also took a trip to the formidable downtown Johannesburg, knowing as I did about the extremely high crime rate did leave me on edge as we ventured to the Mad Giant Brewery, in the shadow of the historic city prison. As it turned out we had a lovely, relaxed afternoon, enjoying a craft beer whilst the children played within the guarded and gated leisure area.
The next morning we were taken to local, Bryanston organic market for breakfast. We enjoyed an lovely breakfast whilst listening to traditional, live music – albeit as everywhere we experienced in South Africa the service was laughably terrible. The children loved having the freedom to explore the market and dancing to the music.
Part 2. Driving to Kruger National Park
Thanks to our local 'guides' we collected a car and started bright and set off bright and early to Kruger National PArk for our self drive safari. It took around 4 hours to drive to Kruger, the roads were straightforward although the road signs indicated car-jacking spots and encouraged us not to stop.
We arrived at our accommodation, Elephant Walk Retreat next to Crocodile Bridge, and took a while to absorb our surroundings. From the bustling city of Joburg, we found ourselves surrounded by tranquility, nature and a sense freedom to a degree you rarely find. From our lodge, amongst the mango trees (which we were encouraged by the owners to help ourselves to) we had a perfect view across Kruger's vast plains.
Whilst unpacking our shopping into our outdoors kitchen, we watched in awe as a family of elephants bathed in the river on our doorstep.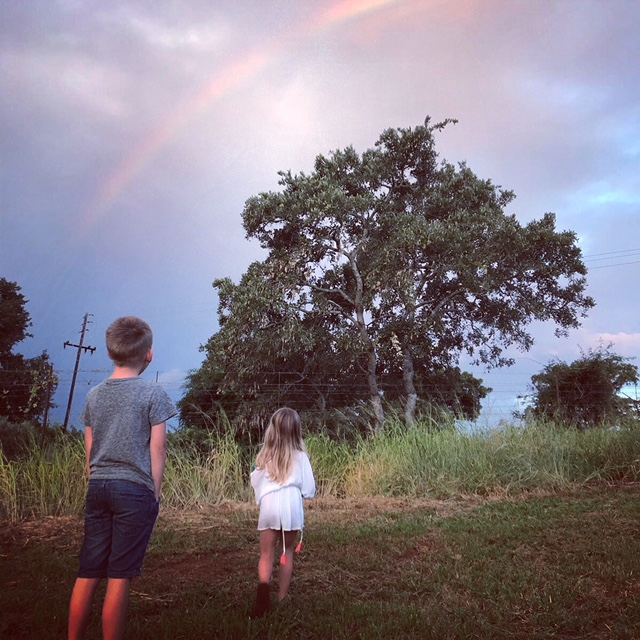 After a quick pitstop we headed straight into to park for an afternoon . It cost us around £60 per day to drive ourselves around the park, enabling us to take the safari at our own pace.
Within the first hour our minds were blown, we experienced a giraffe walking just feet across the front of our car, witnessed a crash of rhinos and got up close and personal to a lioness enjoying some shade.
Over the next 5 days Kruger continued to surprise and delight us. The boys even enjoyed a night time safari organised by Sanspark which was huge hit, despite having to sign a disclaimer acknowledging they could face mortal peril whilst out, from both animals and more scarily poachers. Whilst they were out, I was visited by a herd of hippos, breaking the peace and quiet of my balcony. For a moment I forgot the dangers these powerful animals pose, as I stood in the dark with nothing but the torch light from my mobile phone to try and locate the source of the noise. Greeted with a flash of eyes in the darkness, I watched in wonderment as these huge and powerful animals continued their journey along the perimeter fence.
Kruger surpassed all of my hopes and the children absolutely loved it. Breakfast overlooking the waterhole will take some beating.
After nearly a week, we certainly picked up some tips for going on safari with young children and there are undoubtably things that we did not see or do, but as a family we had a wild crazy experience of a lifetime and can't recommend our accommodation and Kruger park enough.
Part 3. Family road trip to Sun City
The time soon came to be waving goodbye to Kruger as head to Sun City, after one more family Braii near Johannesburg, with our hosts and their family it was off to Sun City on the border of the Pilanesberg National Park.
The road from Kruger to Sun City threw up its own surprises and challenges. We were a little nervous travelling across the country without our guides, we had been warned to stay on the main route, not to stop (even for the police who are heavily corrupted) and to avoid interacting with those selling items such as fruit and crafts (and it turns out tortoises) at junctions.
Heavily dutch influenced Hartbeespoort was our first stop , where we enjoyed a civilised walk around a craft market and a wonderful breakfast in the shadow of a full size replica windmill. From there we crossed the dam, taking in the most wonderful view and from there drove through towns of corrugated tin houses (and hairdressers).
After a relatively drama free journey, we arrived at our destination, the Kingdom Resort just a few minutes drive from the entrance to Sun City. The resort was well placed, the rooms were huge and modern with our own patio and Braii…the service left more than a little to be desired.
In stark comparison to the clearly poverty stricken surroundings, Sun City is a luxury waterpark, mall, casino in seemingly the middle of nowhere. It is, as the name suggests, a city in its own right with access via elaborate gates and a trip on a monorail to reach the centre.
We spent the day enjoying the sunshine on the man made beach, having fun family time on tyre based flumes and in the giant wave pool and  and too much ice cream. The highlight of my day was Ian getting his flipflops stolen when he left them at the top of a flume, considering the risks we felt we had taken on the trip the irony of our only experience of crime did not pass us by. Bare footed but happy we enjoyed a great meal before heading back to our accommodation.
After a few more days to enjoy the resorts onsite waterpark and spa, it was back to Jozi to catch our flight home. Aside from a supposed police officer stepping out into the fast lane to wave us down (we neglected to stop) our trip back was again without issue.
Should you travel to South Africa?
It was with sadness that we waved goodbye to South Africa, it truly offered us so much more than we could have dreamed of, but I do still have conflict in my mind. Generally when I leave a country that has influenced or inspired us we recommend it to our friends and family upon our return, given the level of crime and unrest still so prevalent in the country and particularly if they were to travel without a host – could we recommend it? I'm undecided. I guess yes, to recommend with passion yet caution would be the case….and one of those disclaimers courtesy of Kruger.
Next it was homeward bound, but not without a short stop in Abu Dhabi and Dubai.